👍 This application offers the possibility of a detailed study of the biblical writings, that is why its name Bible Study free, adding that certain verses can be linked when they present the same topic.
It´s an application that serves for Android, its weight is totally irrelevant and it is not necessary to have a very large memory or capacity on your mobile device or tablet.
Something that the new technology offers is the ease with which you can get what you want in a matter of seconds, the Bible Study application is mainly free, you don´t need to pay anything to have it on your smartphone.
👍 If you´re looking for a detailed and complete biblical study this application is for you, it offers the King James Version of the Bible enriched with commentaries and notes written by the American theologian Cyrus Ingerson Scofield.
These notes and explanations help you to understand difficult passages or verses. The goal is that you can obtain all the necessary knowledge about the Bible.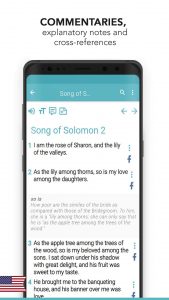 👍 Features:
• Bible Study free presents the option of being able to listen to it without problems, therefore, it offers the possibility of selecting from the tone of voice, the volume and even the speed with which you feel more comfortable when listening. In this way, it is not necessary to stop doing other things to enjoy this great reading.
• The application does not need to be online or with mobile data to enjoy it, it is something that is understood, we do not have the possibility of having a WI-Fi signal, or failing that, adequate data to be able to do certain things on our smartphones, but with this application you should not worry about the connection.
• You can even create a small or very large list of verses, which are organized by dates and comment or study them among themselves.
• The app offers the possibility to mark and save any Bible verse with different colors, either to read it again when you want or to show it to others at any time.
• For some people, certain sizes of letters are usually a problem, this application allows you to select the desired size and greater reading convenience for those who use it.
• If you are someone who likes to make sense or offer comments on your reading, with the application, you can add certain notes to the verses you are reading at that moment, compare them and arrive at a much deeper study.
• Something to consider is that you can share this pleasant reading with your friends, congregations or relatives because it offers the possibility of sending verses by email and social networks.
• Offers a keyword search to make it much easier to find the reading of your preference or what you want at that moment.
• It is not necessary to mark the place you last read, the application remembers the last verse read.
• Receive notifications on the phone daily or weekly (the user can set the time to receive the verse: every day, Sunday or never).
👍 Download the complete Bible
https://play.google.com/store/apps/details?id=bible.study.free