👍 Enjoy this great app to read and listen to the Bible easily and free on your phone!
Today, phone applications have revolutionized the world, thanks to this we can get a variety of things without leaving our homes or paying an exorbitant amount.
Now, you can have the Holy Bible on your smartphone.
KJV Bible app is a totally free application, containing the King James Version of the Bible (KJV), the greatest of all English translations.
Also known as King James Bible or the Authorized Version (AV), it was commissioned by James I for the Church of England and published in 1611. Nowadays, it is considered the most famous and most read English Bible of all time. Enjoy it on your phone!
👍 This great application has several features to consider:
• It includes the King James Version (KJV) in full, including the Old and the New Testament. Try it for free!
• No need to be connected to the Internet to access the Bible. You can have at your reach and in any situation, the sacred Bible to read, listen or share it, without an Internet connection.
• This is an audio Bible: everyone needs to hear God's voice. With KJV Bible app you can listen to the whole Bible.
• Change the screen to day or night mode with a single click to protect your eyes. Smartphones can be annoying if we are in a dark room or without much light.
• Screen font too small? The app also offers the possibility of modifying the size of the letters.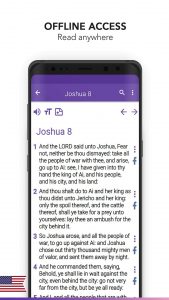 • The possibility of bookmarking and highlighting verses: many people feel the need to mark certain verses because they came to him or helped him at some point, or because he wants to share it with someone else. You have the possibility to select or mark the verses of your preference so that you can always find them without problems.
• If you wish you can even add notes in the sections that you consider most appropriate, it can also be considered as a list of references when it comes to following either reading or conversations concerning these topics.
• The app automatically remembers the last verse read
• You will be able to send a verse by mail or SMS and also share it on social networks very easily (Facebook, Twitter, Instagram). The ability to show others the word of God is very important.
👍 We must not forget that the Bible teaches hope and love towards God and his teachings. The Bible is a guide, a book that will guide us to the right and will show us the mistakes we should not make.
This great application can even help us remember some verses that came to help us at some point in life, the purpose of this application is to allow people to have God more in their hearts and to be close to him.
👍 We hope that you enjoy reading and listening to the Holy Bible!
Download KJV Bible app, the best way to get close to God. Remember that He always wants to be close to you.
📒 Here you have a complete list of the chapters and books of the Bible:
Old Testament:
– The Pentateuch: Genesis, Exodus, Leviticus, Numbers, Deuteronomy.
– Historical Books: Joshua, Judges, Ruth, First Samuel, Second Samuel, First Kings, Second Kings, First Chronicles, Second Chronicles, Ezra, Nehemiah, Esther.
– Books of Wisdom (or Poetry): Job, Psalms, Proverbs, Ecclesiastes, Song of Solomon.
– Books of the Prophets:
Major Prophets: Isaiah, Jeremiah, Lamentations, Ezekiel, Daniel.
Minor Prophets: Hosea, Joel, Amos, Obadiah, Jonah, Micah, Nahum, Habakkuk, Zephaniah, Haggai, Zechariah, Malachi.
New Testament:
– The Gospels: Matthew, Mark, Luke, John.
– History: Acts
– Pauline Epistles: Romans, 1 Corinthians, 2 Corinthians, Galatians, Ephesians, Philippians, Colossians, 1 Thessalonians, 2 Thessalonians, 1 Timothy, 2 Timothy, Titus, Philemon.
– General Epistles: Hebrews, James, 1 Peter, 2 Peter, 1 John, 2 John, 3 John, Jude.
– Apocalyptic writings: Revelation.