Read, watch, listen and share the New Testament of the Bible from the best English version: King James Version of the Bible (KJV)
👍 The app is free and offline
It allows us to read the New Testament for free, without spending a penny or with the possibility of reading it even when you do not have internet, or mobile data, in summary, you do not need to be online to access to her at any time of your day.
📒 Full text of the New Testament: Matthew, Mark, Luke, John, Acts, Romans, 1 Corinthians, 2 Corinthians, Galatians, Ephesians, Philippians, Colossians, 1 Thessalonians, 2 Thessalonians, 1 Timothy, 2 Timothy, Titus, Philemon, Hebrews, James, 1 Peter, 2 Peter, 1 John, 2 John, 3 John, Jude, Revelation.
👍 Easy navigation between books, chapters, and verses.
👍 The app also offers a great feature of listening to the Holy New Testament. If you are someone busy you can just select the audio option and enjoy listening to a verse or a chapter.
👍 You can select which verses are the most interesting for you since you can mark them to read later. It is a very functional and interactive application.
👍 You can choose between different colors to bookmark verses
👍 Thanks to this application you will not have to stay with that praised and beautiful verse just for you, you can share it either by email and some electronic applications with your friends or family, at any time.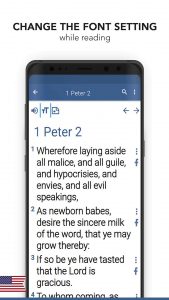 👍 If you are that type of person who likes to write or write down your most relevant thoughts about the Bible, with this application you can do it without damaging the pages of your sacred Bible, and without worrying about having a thousand pieces of paper with these annotations, the application gives the ability to add notes, being these much more practical and organized.
👍 Thanks to the search function, is no longer necessary to waste time in finding the verse you want, just by placing a keyword you can get it without problems and in a really short time.
👍 You also do not have to worry about if you damage your eyes with the brightness of the phone, the app has integrated the possibility of placing it in night or day mode with just a click on it, so you can read the word at any time of the day.
👍 It also has the option to change the size of the text.
👍 If you do not know in which verse you left, no problem, the app allows you to open the last verse read by you so you should not have to take so long to follow this great reading.
👍 Receive verses on your phone daily or weekly.
For all these reasons, the New Testament application is sincerely fantastic, so that it brings all the verses offered by the Bible in the New Testament section and many features that will make your Bible reading a very pleasant experience. Try it for free now!