👍 Download this amazing Bible app and make Bible reading a priority in your life!
Women have many responsibilities and activities in life that fill their days, such as working, cooking, studying, as well as relating to their husband and children.
We want to help you to make Bible reading a priority in your daily responsibilities.
This app is free, easy-to-use and offline. You do not ever need to have an Internet connection! It has been specially designed for women, with a clear interface and charm and feminine colors.
👍 Use this app to encourage your family to read the Bible, study it with your children, discuss the meaning of a passage and memorize Bible verses. The Holy Bible offers a guidance and can help women from the daily problems in life, work and relationships.
KEY FEATURES:
* Free and offline
* Complete Bible with the Old and the New Testament
* Highlight and bookmark verses with different colors
* Create a list of favorite verses
* Customize your Holy Bible reading by adding notes
* The app enables you to increase or decrease the font size of the text
* Looking for something specific in the Bible? Use keywords and find what you are looking for
* When you are reading the Bible to your children before sleeping, change the screen brightness in night mode to protect your eyes
* New verses every day: you can receive inspirational verses daily or weekly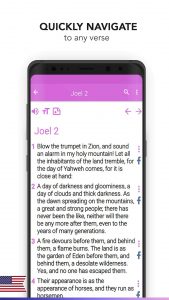 👍 Listen to your Bible app daily and feel connected to Christ or let the Word speak to your heart as you read!
The Holy Bible is now available for free on your phone! Download it and answer the Voice of God!
The Holy Bible is composed of the Old and the New Testament. The Testaments have been divided into chapters, books and verses.
👍 Here you have a list of the chapters and books of the Holy Bible:
📒 Old Testament:
• Pentateuch (5: Genesis, Exodus, Leviticus, Numbers and Deuteronomy) and Historical books (12: Joshua, Judges, Ruth, 1 Samuel, 2 Samuel, 1 Kings, 2 Kings, 1 Chronicles, 2 Chronicles, Ezra, Nehemiah, Esther)
• Poetic books (5: Job, Psalms, Proverbs, Ecclesiastes, Song of Solomon)
• Prophetic Books (17: Isaiah, Jeremiah, Lamentations, Ezekiel, Daniel, Hosea, Joel, Amos, Obadiah, Jonah, Micah, Nahum, Habakkuk, Zephaniah, Haggai, Zechariah, Malachi)
📒 New Testament:
• Gospels (4: Matthew, Mark, Luke and John) and Acts of the Apostles (1)
• Letters from St. Paul (14: Romans, 1 Corinthians, 2 Corinthians, Galatians, Ephesians, Philippians, Colossians, 1 Thessalonians, 2 Thessalonians, 1 Timothy, 2 Timothy, Titus, Philemon, Hebrews) General Letters (7: James, 1 Peter, 2 Peter, 1 John, 2 John, 3 John, Jude.)
• Prophetic: Revelation (1)
https://play.google.com/store/apps/details?id=woman.bible.app