👍 Christianity is entirely based on the words of God, understanding them, and implementing them in life. For thousands of years, the Bible has been the light to guide those who believe in one true God.
Douay Rheims Bible belongs to the late 15th century and was revised by Challoner in 1749. With the passage of time, Douay Rheims, Challoner Revision of the Holy Bible became one of the most authentic and trusted Bible revisions.
👍 Here are some features that make Catholic Bible App a must-have app for your Android devices.
* Free to Use: You can download and use this app for your lifetime without paying even a single dollar.
* 73 Books Included: It is a complete Catholic Bible with 73 books including deuterocanonical and other books.
* Offline Bible: If you are not connected to an internet connection all the time, this app is best for you. You can use it even when offline.
* Audio Bible: Some people are good at hearing than reading and for such people, audios are made a part of the Catholic Bible. You can switch to the audio Bible whenever you desire.
* Option to Bookmark: Some verses are your favorite ones and others help you in dark times. You can bookmark them with different colors to find them instantly at the moment of need.
* Mark Last Read Verse: You can't remember the last verse you recited every time. The app can mark the page you are on and can resume from there whenever you desire.
* Add Favorites: The verses and chapters you love in Bible can be infinite so Catholic Bible allows you to add as many verses to favorites list as many you want.
* Personalize Your Bible: A personalized Bible is easier to read. You can personalize Catholic Bible through changing the font, day/night mode, and other options.
* Keyword Searching: Catholic Bible app allows you to search chapters and verses on the basis of keywords.
* Sharing the Verses: Now you can share verses with your friends and family on social media via Catholic Bible app.
* Verse Reminders: If you like to receive Bible verses on specific days or time, you can set the app to send you reminders at the decided time.
* Add Notes: Making notes when reading Bible improves understanding and realizing it, Catholic Bible app assists you in making notes while reading.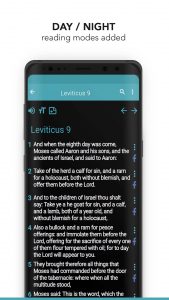 👍 Have a look at the list of the 73 books composing the DRC Catholic Bible:
📒 OLD TESTAMENT:
* Pentateuch: Genesis, Exodus, Leviticus, Numbers, Deuteronomy.
* Historical books: Joshua, Judges, Ruth, 1 Samuel, 2 Samuel, 1 Kings, 2 Kings, 1 Chronicles, 2 Chronicles, Ezra, Nehemiah, Esther, Tobit, Judith, 1 Maccabees, 2 Maccabees.
* Poetic and Wisdom writings: Job, Psalms, Proverbs, Ecclesiastes, Song of Solomon, Wisdom, Sirach.
* Major Prophets: Isaiah, Jeremiah, Lamentations, Ezekiel, Daniel.
* Minor Prophets: Hosea, Joel, Amos, Obadiah, Jonah, Micah, Nahum, Habakkuk, Zephaniah, Haggai, Zechariah, Malachi.
📒 NEW TESTAMENT:
* Gospels: Matthew, Mark, Luke, John.
* History: Acts
* Epistles: Romans, 1 Corinthians, 2 Corinthians, Galatians, Ephesians, Philippians, Colossians, 1 Thessalonians, 2 Thessalonians, 1 Timothy, 2 Timothy, Titus, Philemon, Hebrews, James, 1 Peter, 2 Peter, 1 John, 2 John, 3 John, Jude.
* Prophecy: Revelation
https://play.google.com/store/apps/details?id=bible.catholic.offline