👍 Bible commentary offline app is designed to help readers study the Bible.
It contains the Holy King James version of the Bible enhanced with commentaries and notes written by the English church leader, minister and author Matthew Henry.
These verse-by-verse commentaries provide explanations of the Biblical text. They clarify Scriptures and help students learn and study the meaning of the verses.
Thanks to technology, now you can listen to the Bible on your phone. All the commentaries are also available for listening.
Try it for free! The best study Bible you can find!
👍 In this version of the application is enabled:
– Simply download the app once and use later with no additional expense
– Very simple interface
– Audio Bible: you can read and listen to the Bible at the same time or you can listen while you are doing something else, driving, folding laundry, resting or taking a walk.
– The app allows you not only to bookmark verses but also to save verses in a favorite list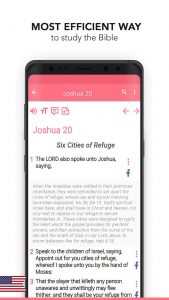 – Choose different colors to mark verses
– Create notes while you are studying
– The Bible contains sub-headings and cross-references to other verses that make it easier for the reader to study the Word.
– Make the text bigger or smaller changing the font of your Bible.
– Next to the verse, you will find the share button that you can use to easily share directly on Facebook.
– Send verses by email or SMS as well. There is nothing more beautiful than sharing the Word of God!
– Receive encouraging Bible verses. You can define the frequency with which you want to receive verse notifications, all in your mobile.
👍 Come closer to the word of God, we make it easier for you!
Download on your phone the complete Bible, with all its books and verses:
📒 OLD TESTAMENT:
– Law: Genesis, Exodus, Leviticus, Numbers, Deuteronomy.
– History: Joshua, Judges, Ruth, First Samuel, Second Samuel, First Kings, Second Kings, First Chronicles, Second Chronicles, Ezra, Nehemiah, Esther.
– Poetry: Job, Psalms, Proverbs, Ecclesiastes, Song of Solomon.
– Major Prophets: Isaiah, Jeremiah, Lamentations, Ezekiel, Daniel
– Minor Prophets: Hosea, Joel, Amos, Obadiah, Jonah, Micah, Nahum, Habakkuk, Zephaniah, Haggai, Zechariah, Malachi.
📒 NEW TESTAMENT:
– Gospels: Matthew, Mark, Luke, John.
– History. Acts
– Epistles: Romans, 1 Corinthians, 2 Corinthians, Galatians, Ephesians, Philippians, Colossians, 1 Thessalonians, 2 Thessalonians, 1 Timothy, 2 Timothy, Titus, Philemon, Hebrews, James, 1 Peter, 2 Peter, 1 John, 2 John, 3 John, Jude.
– Prophecy: Revelation
https://play.google.com/store/apps/details?id=bible.commentary.offline